Searcher (スターター, Sāchā) is the 13th chapter of Clockwork Planet manga series.
At school, Naoto is making up lessons for his red marks with RyuZU's help, while Marie goes sightseeing in Tokyo to gather intelligence on the Tokyo Clock Tower and AnchoR's whereabouts. They suddenly intercept a radio-wave transmission containing obscene remarks apparently targetted towards Marie. With Naoto's sense of hearing, she determines that the point of origin is Grid Mie. On the way there, they head to a beach. Meanwhile, AnchoR laments on how she misses her sister and her past life.
Gallery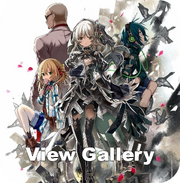 Ad blocker interference detected!
Wikia is a free-to-use site that makes money from advertising. We have a modified experience for viewers using ad blockers

Wikia is not accessible if you've made further modifications. Remove the custom ad blocker rule(s) and the page will load as expected.